CLICK ON EACH PROGRAM TO NAVIGATE​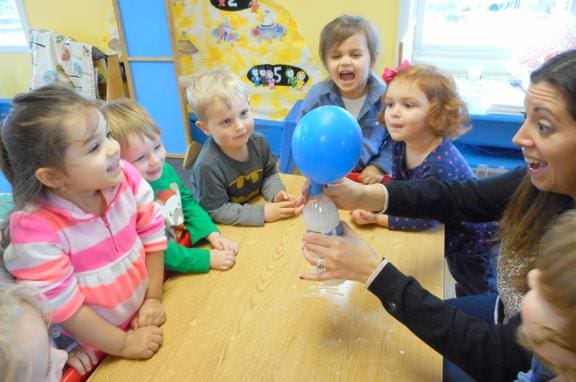 Program Days Offered: Tuesday/Thursday or Monday/Wednesday/Friday. 
Program Times Offered: 9:00 AM - 12:00 PM or 1:00 PM - 4:00 PM
It is our goal to provide the best school experience possible for your children so that they learn to love school and look forward to coming each day. Knowing this is often your child's first experience in a structured school setting, we make it a priority to give that extra attention and care needed for both parent and child to feel safe and secure. With our small class sizes, the children benefit from a great deal of one-on-one teacher time, which enables the teachers to truly get to know your child and to individualize instruction to fit your child's needs.
Our sessions follow a routine in order for your child to feel secure and confident. We start our day with fun manipulative toys to get fingers busy! Circle time provides us with the opportunity to have conversations about our daily activities, to sing and dance and to play hands-on games using shapes, colors, numbers, and letters. Examples of some of these games include "feeding the penguin a shape" or putting the first letter of a name into the "gumball machine"; the children are having fun and don't even realize how much they are learning! Circle time also offers us the opportunity to listen and pay attention to our teachers and friends as we share stories and express our feelings. Our Peace Builder program has become a part of our daily circle time too, as we recite our Peace Builder, Pledge and talk about what it means to be a Peace Builder which encompasses qualities like being a good friend, having empathy, telling the truth and using kind words. Every month, we have a school-wide Peace Builder activity that the children participate in, and we talk about how, even at a young age, each one of us can make a difference!
Learning centers are a big part of our day where children have the chance to role-play and work in small groups. Some examples of centers include the kitchen area, painting at easels, transportation, building with blocks, the rice/water table, dinosaurs, dolls, the tool bench and our always changing dramatic play center. When playing in these centers, the children have the opportunity to socialize with their classmates, and we encourage them to use their imagination and problem-solving skills. We introduce our Handwriting Without Tears Program, as it is a good base to carry through the habits and simple cues that are used in writing, such as left to right and top to bottom.
Music is an important part of our curriculum and fun, up-beat songs are often used for transition times such as clean-up or snack, whereas a more classic or tranquil tune may be a cue for quiet time. We have a music enrichment program where we invite guest musicians to come in periodically throughout the year to share their musical talents and expand our knowledge of music. Children at this age are filled with energy and enthusiasm, and our program is designed to capture that enthusiasm by learning through music and movement.
Running and playing outside is certainly a must for this age group, and we are sure to get outside every day, weather permitting. Our playground is equipped to target gross motor activities such as climbing, sliding, crawling and more. We also make great use of our unique campus and outdoor environment by hiking our nature trails and having fun during "barn week" where we set up activities and projects in our barn for the children to learn and enjoy.
In every part of our day, we make it our goal to help children of this age group work on the skills that are most important for them, including, socialization, sharing, healthy habits, clean-up, self-help, and the development of gross and fine motor skills. Potty training is not required to attend however, we patiently aid your child as they are learning, and we praise all efforts at school and at home.​
We pride ourselves on working as a team with our parents to make this a positive, happy and memorable experience that will be a solid foundation for the rest of your child's school years.