CLICK ON EACH PROGRAM TO NAVIGATE​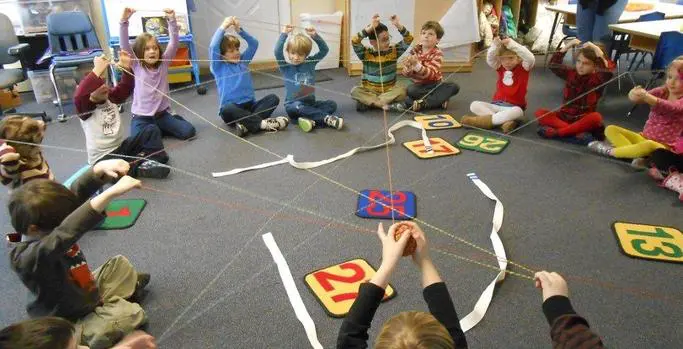 The Kindergarten is a Full Day Program offered from 9:00 AM - 3:00 PM with drop off beginning at 8:45 AM. Early drop off and late pick up are also available from 8:00 AM until 4:00 PM.
Kindergarten marks an extremely important time in a young child's life as they make the transition from preschool to primary grades; we are confident that our program makes the most of this pivotal time. With a small class size, at a maximum of 18 children and two fully qualified teachers, each child is sure to get the guidance and attention that is necessary at this important age. As a private school, we create a stimulating and expansive curriculum which uses and develops the children's own interests and passions to make learning meaningful. The children are encouraged to work collaboratively and independently while receiving all the individual instruction they need to be successful. We pride ourselves on creating confident, responsible, independent thinkers who are not only prepared for first grade but who also leave with a great enthusiasm to learn and are fully prepared socially and emotionally to make the transition.
The atmosphere we create in the classroom is one of respect and cooperation. We set goals and expectations for the children, which they take pride in. The children are taught to be responsible for their own actions, and we assist them to resolve conflicts in a positive way. Our Peace Builder program is part of our daily lessons as we recite our Peace Builder Pledge and talk about what it means to be a Peace Builder, which encompasses qualities like being a good friend, having empathy, telling the truth, making good choices and using kind words. Every month, we have a school-wide Peace Builder activity that the children participate in, and we talk about how, even at a young age, each one of us can make a difference.
We start each day with our daily challenge, which gets our brains working as soon as we enter the classroom. The children grow to love the challenges as they are fun and involve various activities such as creating something out of an assortment of materials, writing about a specific topic or solving a math challenge or brain-teaser. The children have a sense of pride when they are able to complete their challenge each morning, and they are praised for their growth and accomplishments.
Our reading program is based on a whole language approach where we read and write for real purpose and meaning and strive to have your child develop a true love of books. We read frequently throughout our day as we integrate literacy into all areas of the curriculum. Reading takes place in many forms including guided reading, reading aloud, independent reading, and reading clubs. Our print-rich environment holds word walls, which include our sight words and theme words that change throughout the year. We use a wide variety of literature including fiction and non-fiction, poetry, myths, reader's theater, magazines, newspapers, and current events publications. The children meet in reading clubs and use leveled readers as a tool to build confidence and work on skills such as phonics, grammar, punctuation and reading strategies. Our sight words are practiced in many fun ways throughout the year, including activities such as songs, games (both inside and outside) and "reading the room" to help learn the words. It is important that the children see literacy everywhere, which is why we have our sight words posted all around our room for daily practice and use. Everyone becomes a reader in our Kindergarten classroom!
Our writing program is exciting as children start to "kid write" the day they enter our classroom. "Kid writing" is an effective approach for children to gain confidence and become independent writers. It allows children to express themselves by writing the sounds they hear in words, and it rapidly develops throughout the school year. Letter formation is reinforced through our school wide 'Handwriting Without Tears" program. Writing is integrated into everything that we do until it becomes second nature to the children. Writing projects will always represent something that is meaningful, and we celebrate our writing by having special days like the "Editor's Breakfasts" where young writers are busy editing, revising, and reading their work out-loud. We use literature every day to model writing. Each week, the children write a response to a story or a piece of literature, which begins as a few words and a picture and then grows throughout the year to become complete stories created by the children themselves.
Every child is given their own journal which is used in various ways. Sometimes the children will be given a specific subject to write about, and sometimes it is left open-ended. Often, something exciting happens during our school day, so we take the time to write about it in our journals! We also include a math and science journal as part of our curriculum in which we complete problem-solving activities, draw graphs and diagrams, and record investigations, experiments and results.
Our math program is designed to encourage your child's creative and open-ended thinking. We aim to develop a true understanding of mathematical concepts through practical problem-solving activities. We bring math to life by using hands-on manipulatives and real-life situations. Concepts covered through the year include number concepts, patterns, telling time, estimation, simple addition and subtraction, graphing, and data gathering, money and fractions. We have some special math events, such as our big celebration of the 100th day and "Money Week". During money week math comes alive as we set up a banking system with real money where the children earn a salary for coming to school, have the chance to purchase items in their school store, act as cashiers and bankers, figure out interest accrued if they save their money and even keep track of their debits and credits on their own balance sheet.
We have a SMART board to enhance our learning experience in the Kindergarten classroom. With this technology, we can produce our own activities and lessons tailored to the specific needs of the children at that time. The SMART board is an interactive tool which engages the attention of the children and brings the lessons to life instantly. Students claim it is easy to grasp a difficult concept using the SMART board. It helps to develop visual learners while supporting aural and logical thinkers, and it is great to see the children's faces light up in class because a "magical" device is inspiring them to learn! We also make use of the iPad in the classroom. This is an excellent tool for photographing and recording class activities, allowing the children to view their lessons and class projects. We also use the educational applications available to further enhance the classroom experience, such as BrainPop, which is an online encyclopedia to help children learn new concepts in social studies, science, and literature. Both the SMART board and the iPad serve as our resources for research. On the desktop computer, the children are introduced to the keyboard and taught how to use the mouse and function keys properly. The children will all publish their own stories on the computer by the end of the year and will be able to read and share their work.
Science is taught through discussion and hands-on experiments. We often go outside to observe nature and our environment and bring it back into the classroom. The objective of our science curriculum is to predict, experiment, observe, and then record our discoveries and results in our science journals. We also take full advantage of our nature trails and learning activity barn, where we can follow up on any outside activities. Some topics we cover throughout the year include floating/sinking, magnets, recycling, growing vegetables, life cycles, food pyramid, healthy lifestyle, and discovering the Earth and planets. Each month, we have a real "scientist" from "What Matters for Kids" who visits our classroom to conduct hands-on experiments with the children and teach them a different scientific process each time. Our Kindergarten class is sometimes given the special task of helping to feed our school animals. We also take full advantage of our learning activity barn, where we can follow up on any outside activities. The children are taught to respect and protect the environment.
Music is a stimulating and effective way of learning, so we integrate it throughout the day using a wide variety of CDs and percussion instruments. We enjoy our times throughout the day when we sing, dance, compose our own music, and become choreographers! We also have a music "enrichment" program where we have guest professional musicians come into the classroom to share their talents and broaden our musical experience. Parents are treated to our musical talents several times throughout the year, including our Holiday Show, Mother's Day Tea, and the grand finale being, the Kindergarten Graduation!
Physical activity and outdoor time are important for growing children. We go outside every day, weather permitting. We sometimes have structured physical education time where we play together as a group and work on basic skills such as catching and throwing, jumping rope, hula-hoops, team games, etc. We are also sure to allow for free time outside so that children have the opportunity to release their energy on the playground and invent their own games. We use the property to its fullest extent by hiking the nature trails, building, and sometimes even sledding!
The Kindergarten program offers Spanish class once a week and Yoga class every other week. We also have Science Enrichment once each month. The children bring their own lunch each day, but every Friday is "Pizza Friday," which gives the children the opportunity to participate if they wish.
The Mountain Hill School Kindergarten is unique. We pride ourselves on helping each child reach their maximum potential. Upon completion of Kindergarten, the children leave with confidence, independence, a love of learning, and the foundation they need to be successful in the future!